Healthy food for your eye health? Carrots are not the only ones that are healthy. Learn which foods will improve the health of your eyes and protect you from possible diseases.
Fish
Fish such as salmon, tuna, sardines and mackerel are rich in omega-3 fatty acids, which protect you from dry eyes, macular degeneration and cataracts . If you don't like seafood, you can always get omega-3 fatty acid supplements.
Green leafy vegetables
Spinach, kale and cabbage are full of lutein and zeaxanthin, plant pigments that stop the development of macular degeneration and cataracts. Broccoli, peas and avocados are also good sources of these powerful antioxidants.
Eggs The
vitamins and nutrients in eggs, including lutein and vitamin A (which protects against night blindness and dry eyes), are a good choice for your eye health.
Whole grains A
diet that contains a low glycemic index can help reduce the risk of age-related macular degeneration. Replace refined carbohydrates with brown rice and whole grains. Vitamin E, zinc and niacin found in whole grains help the overall health of your eyes.
Citrus fruits and berries
Oranges, grapefruit, lemons and berries are rich in vitamin C, which protects you from cataracts and macular degeneration.
Nuts
Pistacio, hazelnuts, almonds – rich in omega-3 acids and vitamin E improve eye health.
Colorful fruits and vegetables
Foods such as carrots, tomatoes, peppers, strawberries, pumpkins, corn and cantaloupe are excellent sources of vitamins A and C. Also, carotenoids – which give these fruits and vegetables their yellow, orange or red pigment – help reduce the risk of many eye diseases diseases.
Legumes
Beans, peas and lentils are a good source of bioflavonoids and zinc and can protect the retina and reduce the possibility of macular degeneration and cataracts.
Fish oil, flaxseed oil and blackcurrant seed oil
These excellent supplements contain omega-3 fatty acids and have many benefits for eye health, including the prevention of dry eye syndrome and the development of macular degeneration and cataracts.
Sunflower seeds
Keep your eyes healthy by snacking on sunflower seeds, which are rich in vitamin E and zinc.
Beef
In moderation, beef can improve eye health. Beef contains zinc, which helps your body absorb vitamin A and reduce the risk of macular degeneration.
Healthy food – 5 foods you should eat every day
In our world of fast food, microwave meals and empty calories, too many people eat too little quality food. Healthy food is extremely important, so let's change it now: fill the fridge with these 5 foods and eat them every day (or at least most of the time). You will feel better and healthier.
☻ Broccoli
Who would have thought this little green vegetable packed so much power? Broccoli contains sulfur compounds (e.g. sulforaphane) that help fight cancer, which has been confirmed by scientific research. Don't like broccoli? Try adding it to your favorite dish or smoothie.
☻ Berries
Blueberries, strawberries, raspberries, blackberries…whatever you want! Berries bring many health benefits, protecting against chronic diseases and cancer. So treat yourself to a daily dose of antioxidants with a cup of berries today!
☻ Oats
If you are concerned about high cholesterol, high blood pressure and heart health, you should eat oats. This whole grain is rich in beta-glucan and helps maintain cholesterol within normal limits. So ditch the sweetened cereals and bad pastries and eat a cup of oats every morning – your heart will thank you for it.
☻ Lean proteins
We live in a world of carbohydrates, which leads to weight gain, diabetes and other health complications. The solution is to balance your diet with more protein. Proteins contain amino acids that build muscle and can speed up your metabolism and thus melt more fat. Fish, turkey, chicken, legumes, tofu, yogurt or protein powder for your favorite shake will be a great choice.
☻ Tea
Juices and sweetened drinks destroy teeth, influence weight gain and lead to insulin resistance. Choose a healthier way and replace them with water or tea, which has been shown to protect against heart disease and cancer.
Healthy food – recipes for healthy eyes
The next time you visit your eye doctor, don't be surprised if you go home with a list of foods like kale, orange bell peppers, and wild salmon. These and many other foods contain high amounts of nutrients that are essential for the health and function of your eyes. These recipes are designed specifically to improve the health of your eyes. The recipes are below. Good luck and remember – healthy food is the best food.
Chicken salad – Healthy Food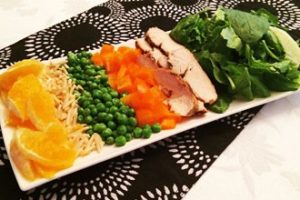 It is full of lutein, zeaxanthin, vitamins C and E and zinc – as if created for your eyesight.
1 cup romaine lettuce, chopped
1 cup baby spinach
1 cooked chicken breast, sliced ​​diagonally
1/2 cup frozen peas
1/2 orange bell pepper, diced
1/4 cup almonds
1/2 orange, peeled and sliced
​​Dressing/Sauce :
1/4 cup of low-fat Greek yogurt
1 tablespoon of curry powder
1 clove of garlic, minced
juice squeezed from the second half of an orange
salt and pepper
Arrange the ingredients on a plate or in a bowl. In a separate container, combine all the ingredients for the dressing and mix them well. Pour it over the salad and serve.
Kale salad – Healthy Food
Green vegetables, especially leafy ones such as kale, spinach and spinach, contain a large amount of lutein and zeaxanthin. These pigments are strong antioxidants that protect the retina from harmful UV radiation and blue light. Leafy greens are also high in vitamins C and E, beta-carotene, zinc and fiber. These nutrients play a role in the prevention of age-related macular degeneration.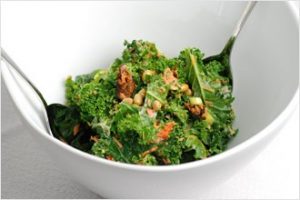 (serves 4)
4 cups raw kale, washed and dried
1/4 cup chopped dried figs or dried apricots
4 onions, finely chopped
1 medium carrot, grated
1/4 cup toasted soybeans
Dressing/sauce:
2 tablespoons mayonnaise
2 tablespoons plain yogurt
2 teaspoons vinegar (apple, white wine or rice vinegar)
2 teaspoons honey or maple syrup
salt and pepper
Remove the ribs from the kale leaves.
Coarsely chop the kale into bite-sized pieces (3-5 cm) and place in a large salad bowl.
Mix together all the ingredients for the salad, except the soy.
In a small bowl, mix all the ingredients for the dressing and pour over the salad and mix.
Cover and refrigerate for an hour to 3 hours.
Sprinkle with fried soy and good luck!
Detox water
Hydrate yourself! Drinking water throughout the day is important for many reasons—including eye health. Dehydration can lead to dry eyes, redness and swelling of the eyelids.
Follow these simple instructions to prepare refreshing detox water for the whole family. This drink is especially recommended during hot summer days, and is a healthy alternative to juices.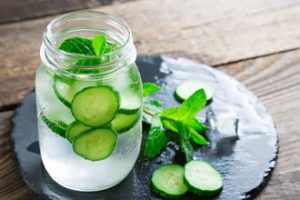 Take a glass or jar.
Add a handful of chopped herbs listed below
Choose a fruit or vegetable, even two from the list below. Chop and add to a glass.
Add fresh water and put in the fridge for two hours so that the water takes on the flavors.
Herbs and spices: mint, basil, ginger and rosemary.
Fruits and vegetables: cucumber, fennel, strawberries, blueberries, raspberries, lemon, lime, orange, kiwi, peach, watermelon, mango.
Niagara spring soup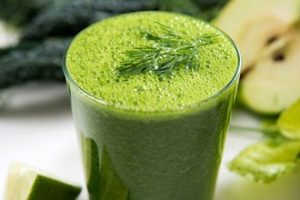 (serves 6 cups)
1 cucumber
2 Granny Smith apples
1 lime, peeled
4 cups spinach leaves
4 cups baby kale
2 cups fresh and thawed peas
2/3 cup mint leaves
1-1/2 cups plain Greek yogurt
Honey, as desired.
Lightly fried chopped almonds, for decoration. Wash fruits and vegetables thoroughly. Cut the cucumber and apples into large pieces. Place all ingredients except yogurt, honey and almonds in a juicer. Whisk the juice into Greek yogurt and add honey as desired.
Pour into small bowls or cups and sprinkle toasted almonds on top.
Frittata made of orange pepper, spinach and sun-dried tomatoes
Parents, make sure your kids eat orange peppers, they're great for the eyes! This vegetable is a source of zeaxanthin. It is also a good source of vitamins C and E, as well as lutein and beta-carotene. Eggs, which are also an integral part of this dish, are a source of lutein, vitamin E and omega-3 fatty acids.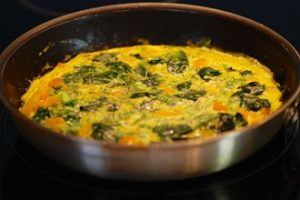 3 eggs
1 tablespoon milk (1% or skim)
1/2 cup chopped orange bell pepper
1/4 cup sun-dried tomatoes
1/4 cup chopped frozen spinach
1 tablespoon olive oil
1 tablespoon parsley
salt and pepper
Mix eggs, milk, parsley, salt and pepper and set aside. Fry the pepper and sun-dried tomatoes in olive oil for 1 minute. Add the frozen spinach and cook until it is thawed and cooked.
Reduce the heat and add the eggs, making sure the eggs and vegetables are evenly distributed in the pan. Cook over low heat until the frittata begins to cook, about 5 minutes. Be careful not to burn the bottom. Flip the frittata in the pan.
Cook on low heat for another 1-2 minutes. Alternatively, place everything in an ovenproof bowl and into the oven for 3 minutes until the frittata starts to cook. Remove it from the heat and let it stand for 10 minutes. Frittata can also be eaten at room temperature, or even cold.
Pumpkin mousse – Healthy Food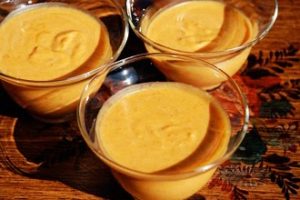 (for 4 people)
1 cup pumpkin puree (240g)
1/2 cup plain Greek yogurt, 0% or 2% fat
1/2 cup maple syrup
1/4 cup freshly squeezed orange juice
1 gelatin wrap
1/4 cup sweet cream, very cold
peel of one orange
1/2 teaspoon mixed spices (cinnamon, cloves, nutmeg, ginger)
Place a medium-sized bowl in the refrigerator. In a large bowl, mix the pumpkin and yogurt. Sprinkle with gelatin and orange juice and let it stand for about three minutes, during which time prepare the maple syrup. Boil the maple syrup over medium heat in a small saucepan. Pour the boiling maple syrup over the orange juice and stir until the gelatin dissolves.
Pour the maple syrup into the pumpkin mixture and mix well using a hand mixer. Add orange peel and spices, mix everything. Put the cooled sweet cream in a chilled bowl. Mix the pumpkin mixture with a mixer for about a minute. Use a spatula to spread the sweet cream over the pumpkin mixture.
Serve them in glasses, but before that leave the glasses in the refrigerator for 2-3 hours.
Read next:
How to Improve Eyesight